I was asked over the summer to present and provide professional development on several online assessment tools for both formative and summative assessments. Our district continually searches for new ways to make the gathering and use of data more efficient for teachers and administrators. I believe the primary heart behind this for all is to reduce the amount of time teachers spend doing the grading and compiling of data and more on the use of the grade. Teachers need more time allotted to reflect on their data and consider numerous questions. This evaluation discourse, which should occur both internally and externally, focuses on establishing trends in the data compiled to determine effectiveness of the previous instruction and the improvement and planning of future instruction.
Teachers can ask...
Where are we now?
How did we get here?
Where do we want to go?
These question are at the heart of data chats and can simply drive the conversation to more in-depth discourse.
For the professional development, which lasted around three hours split into two days, I was assigned Plickers, Kahoots, and Edulastic.
All of the materials will be provided at the end of the post.
This program provides an effective way to compile data and mainly for formative assessments. This is a low-tech solution with high upside that should replace the purchasing of expensive clicker systems. Teachers print off response cards that utilize similar QR Code technology. Each card is specific to the student and limits responses to true or false or multiple choice. The teacher sets up questions on the mobile application or the Plickers website. To use Plickers, the teacher must have a smartphone or tablet. After presenting the question, the students turn the cards to designate their answer at the top of the card. The teacher then scans the room using their smartphone or tablet's camera. As the camera recognizes the card, it translate the streaming image into the student's individual response. Class responses can also be displayed to further reflection and discussion of the question.
Kahoots is an engaging formative assessment that gamifies the classroom. It is very similar to trivia
games seen in local pubs or restaurants, where a trivia questions pops on the television screen and people try to answer the fastest for the most points. As part of our professional development, I used a Disney Kahoot Quiz and the staff was 100% engaged and excited. This is true for the kids as well. I'd challenge any teacher to implement Kahoots and not see the excitement and engagement it brings for students. During our end of year surveys last Spring, my students reported Kahoots as one of the best things of the year and many of my lower-level students reported that it made them come to school because it was so fun.
If there is one technology tool you explore and implement this year, drop everything and head to Edulastic after reading this post. This program may be one of the most transformative programs for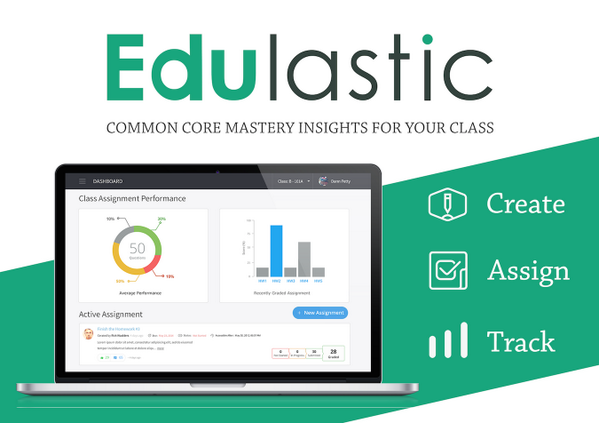 teachers and while it works for formative assessments, its power to realign and engage students in summative assessments is awesome. Many states have or are transitioning to 100% computer-based standardized testing. The day of handing out paper booklets, pencils, and students answering seventy plus multiple-choice questions are soon at the end. These assessments now include drag-and-drop, resequencing, paragraph questions, hover-to-higlight, and more. These test skills will also push teachers and students this year to design more technology enhanced assessments. Furthermore, Tennessee includes pictures, audio (music or speech clippings), and video on the assessments. Students must apply higher-level analysis of more forms of media. This presents several issues, especially for those practicing backward design. Not only do teachers' lessons now include more various modes of information to analyze, but their assessments must be enhanced. Edulastic fits every need for teachers in the 21st Century. After creating numerous assessments and providing professional developments to teachers on its use, I can't imagine teaching and assessing without it. I would even go as far to say that I am pushing to digitize any traditional "worksheets" we utilize into the Edulastic system. Not only does it provide the most technology enhanced assessment possibilities I've ever seen, but also focuses on data enrichment for reflection and planning for teachers and administration. Students can sign up without an email after the teacher provides a short code to the class. After students take the assessment, teachers receive the graded assessment (often the second the student finishes) and mastery reporting on the class and students, as well as standards and skills reporting to the lowest denomination of the standard. Teachers can reassign assessments for students to try again, which it automatically redistributes questions and answer choices. Additionally, teachers can release a detailed report to the student, who can now click on the questions missed to see their answer choice with the correct answer choice. Going one step further, teachers can provide overall feedback on the entire assessment for the student or provide individual feedback and instruction on individual questions. Talk about powerful!
Look at just
some
of the questions offered for technology enhancement...
Here are the resources used for my professional development, which includes guides. Feel free to make a copy via Google Drive.
Professional Development Google Folder (Plickers, Kahoot, Edulastic)